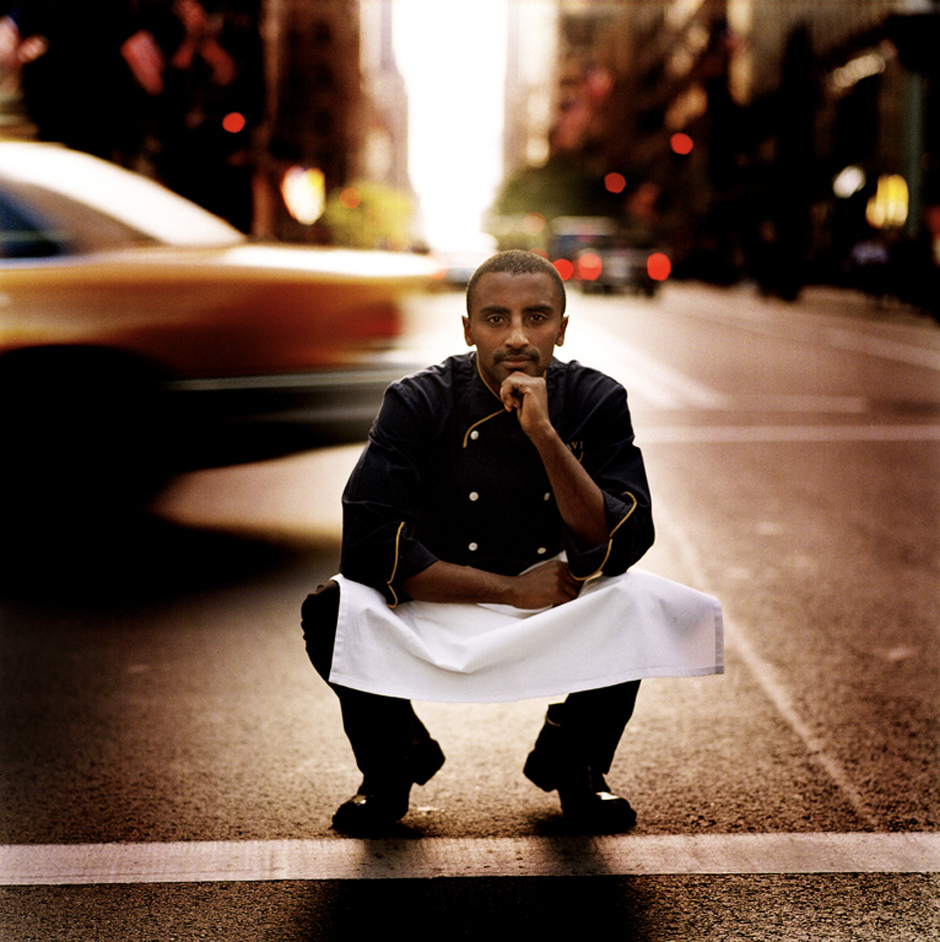 From Wikipedia, the free encyclopedia
Jump to: navigation, search
Marcus Samuelsson
Samuelsson during a lecture in New York City, November 15, 2007
Born January 25, 1970 (age 42)[1]
Ethiopia
Education Culinary Institute
Gothenburg, Sweden
Spouse Maya Haile
Early life
After their mother died in a tuberculosis epidemic when he was three years old, Kassahun Tsegie and his elder sister, Fantaye,[3] were adopted by Ann Marie and Lennart Samuelsson, a homemaker and a geologist, who lived in Gothenburg, Sweden. The siblings' names were changed to Marcus and Linda Samuelsson. They also have an adopted sister, Anna Samuelsson. Samuelsson's biological father, Tsegie, is a priest and father of eight of the chef's half-siblings; he still lives in the Ethiopian village where Samuelsson was born.[3]
Education and career
After becoming interested in cooking through his maternal grandmother in Sweden, Samuelsson studied at the Culinary Institute in Gothenburg, where he grew up, apprenticed in Switzerland and Austria, and came to the United States in 1991 as an apprentice at Restaurant Aquavit. At 24, Marcus became executive chef of Aquavit, and soon after that became the youngest ever to receive a three-star restaurant review from The New York Times.[3] In 2003 he was named "Best Chef: New York City" by the James Beard Foundation. The same year he started a second New York restaurant, Riingo, serving Japanese-influenced American food.
In addition to his recognition as a world-class chef, Samuelsson is an award-winning cookbook author with titles in both English and Swedish. His 2006 African-inspired cookbook The Soul of a New Cuisine received the prize "Best International Cookbook" by the James Beard Foundation. Other titles written by Samuelsson are Aquavit and the New Scandinavian Cuisine, En Smakresa ("A Journey of Tastes"), and Street Food.
Samuelsson is a Visiting Professor of International Culinary Science at the Umeå University School of Restaurant and Culinary Arts in Sweden.[4][5] He had a television show, Inner Chef, which aired in 2005 on Discovery Home Channel and yet another program in 2008, Urban Cuisine on BET J/Centric. His cooking combines international influences with traditional cuisines from Sweden to Japan and Africa.[6] Samuelsson is married to the model Gate (Maya) Haile.
On November 24, 2009, Samuelsson served as guest chef for the first state dinner of the Barack Obama presidency. The dinner, in honor of Prime Minister Manmohan Singh and the country of India, was served on the South Lawn and largely vegetarian. Samuelsson reportedly sought to combine sustainable and regional foods which reflect the best in American cuisine yet evoke the flavors of India. Harvesting fresh vegetables and herbs from the White House Garden, Samuelsson's menu included red lentil soup, roasted potato dumplings, and green curry prawns.[7][8] The tradition of guest chefs joining the White House chef for special events began during the Clinton administration.[9]
Samuelsson is an advisor to The Institute of Culinary Education in New York City.
As of 2010, he lives in Harlem, near the site of his newest restaurant, Red Rooster, which opened in December 2010.[10]
In March 2011, the Red Rooster hosted a fund-raising dinner for the Democratic National Committee. President Obama attended the dinner. The $30,800-per-plate event raised $1.5 million.[11]
Television and Radio
Samuelsson has been featured on television including on CNN, MSNBC's The Dylan Ratigan Show, as a judge on Top Chef, Iron Chef America, Chopped, and frequent guest appearances on Today. He previously hosted his own television shows, The Inner Chef and Urban Cuisine.
In early 2010, he competed alongside 21 world-renowned chefs on Bravo's television series Top Chef Masters. Samuelsson won the competition, earning $115,000 for UNICEF's grassroots effort The Tap Project.
In 2011, he was a contestant on the fourth season of The Next Iron Chef, competing against nine other chefs for the opportunity to be designated an "Iron Chef" and appear regularly on Iron Chef America. Samuelsson was eliminated in the fifth episode, finishing in sixth place.
In 2012, Samuelsson won Chopped All Stars: Judges Remix. He was awarded the grand prize of $50,000 for his charity, the Careers Through Culinary Arts Program.
On June 28, 2012, Samuelsson was the subject of an extensive interview on Fresh Air with Terry Gross on NPR.
Books
Samuelsson, Marcus, Yes, Chef, a memoir, Random House, New York, 2012, ISBN 978-0-385-34260-5