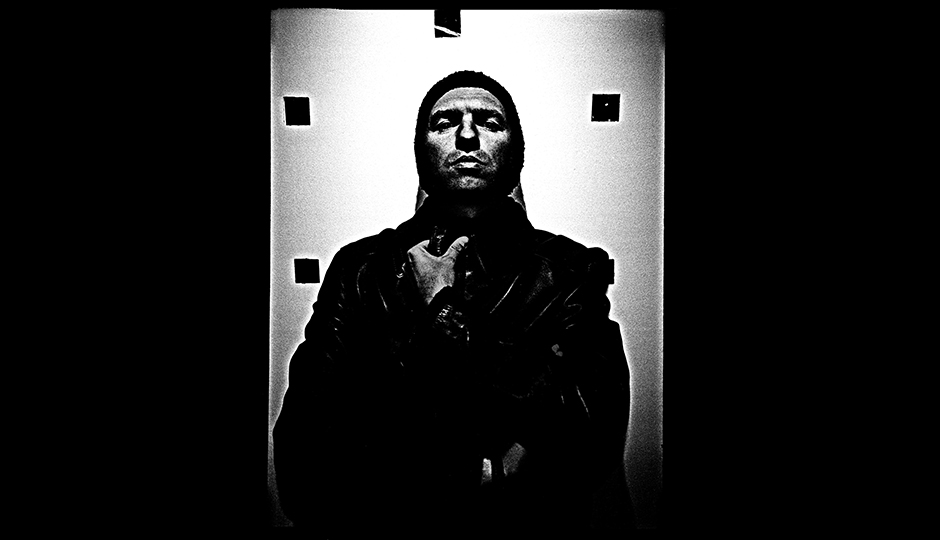 Early life and family
Anton Johannes Gerrit Corbijn van Willenswaard was born on 20 May 1955 in Strijen in the Netherlands, where his father had been appointed as parson to the Dutch Reformed Church the previous year.[5] His father Anton Corbijn van Willenswaard (1917–2007)[6] would take up the same position in Hoogland (1966) and Groningen (1972)[7] moving his wife and four children with him.[8] His mother, Marietje Groeneboer (1925–2011), was a nurse and was raised in a parson's family. Photographer and director Maarten Corbijn (born 1960)[9] is a younger brother.[10] Grandfather Anton Johannes (Corbijn) van Willenswaard (1886–1959)[11][12] was an art teacher at Christian schools in Hilversum[13] and an active member in the local Dutch Reformed Church in Hilversum.[14][15]
Photography[edit]
Corbijn started his career of music photographer when he saw the Dutch musician Herman Brood playing in a café in Groningen around 1975. He took a lot of photos of the 'rising star' Herman Brood & His Wild Romance. Because of the pictures taken by Corbijn, Brood's fame rose quickly, and as a result Corbijn's own exposure increased.
Corbijn has photographed Joy Division, Depeche Mode, Tom Waits, Bruce Springsteen, Prāta Vētra, David Bowie, Peter Hammill, Miles Davis, Björk, Captain Beefheart, Kim Wilde, Robert De Niro, Stephen Hawking, Elvis Costello, Siouxsie and the Banshees, Morrissey, Peter Murphy, Simple Minds, Clint Eastwood, The Cramps, Roxette and Herbert Grönemeyer, amongst others. Perhaps his most famous, and longest standing, association is with U2, having taken pictures of the band on their first US tour, as well as taking pictures for their Joshua Tree and Achtung Baby albums (et al.) and directing a number of accompanying videos.
From the late 70s the London based NME, (New Musical Express), a weekly music paper, featured his work on a regular basis and would often feature a photograph of his as the front page. One such an occasion was a portrait of David Bowie back stage in New York at his play The Elephant Man in nothing more than a loin cloth. In the early years of London based The Face, a glossy monthly post-punk life style / music magazine, Anton Corbijn was a regular contributor. He made his name working only in black and white. In May 1989 he began taking pictures in colour using filters: his first try was done for Siouxsie Sioux.[16] Between 1998 through 2000, in collaboration with the painter Marlene Dumas, he worked on a project called "Stripping Girls", which took the strip clubs and peep shows of Amsterdam as their subject;[17] while Corbijn later exhibited photographs, Dumas took Polaroids which she then used as sources for her paintings.
Corbijn has photographed album covers for U2, working with sleeve designer Steve Averill and Peter Hammill, Depeche Mode, Bruce Springsteen, The Creatures (the second band of Siouxsie Sioux), Nick Cave, Bryan Adams, Metallica, Therapy?, The Rolling Stones, Bon Jovi, The Killers, Simple Minds, R.E.M., The Bee Gees, Saybia and Moke.
Film directing[edit]
Corbijn began his music video directing career when Palais Schaumburg asked him to direct a video. After seeing the resulting video for Hockey, the band Propaganda had Corbijn direct Dr. Mabuse. After that he directed videos for David Sylvian, Echo & the Bunnymen, Golden Earring, Front 242, Depeche Mode, Roxette and U2. His first video in colour was made for U2 in 1984 for their single "Pride". In 2005 Palm Pictures released a DVD collection of Corbijn's music video output as part of the Director's Label series.
In 1994 Corbijn directed a short film about Captain Beefheart/Don Van Vliet for the BBC called Some Yoyo Stuff. He made his feature film debut with Control, a film about the life of Joy Division frontman Ian Curtis. It premiered to rave reviews at the Cannes Film Festival on 17 May 2007.[18][19] The film is based on Deborah Curtis' book Touching from a Distance about her late husband and the biography Torn Apart by Lindsay Reade (Tony Wilson's ex-wife) and Mick Middles. Although shown outside the Palme d'Or competition, Control was the big winner of the Director's Fortnight winning the CICAE Art & Essai prize for best film, the "Regards Jeunes" Prize award for best first or second directed feature film and the Europa Cinemas Label prize for best European film in the sidebar.[20]
Author William Gibson refers to a fictitious portrait by Corbijn of the character Hollis Henry in his 2007 novel Spook Country.[21] A Corbijn photograph has served as the author's portrait on many of Gibson's books, including Neuromancer.[22]
Corbijn is the subject of Josh Whiteman's 2009 documentary film Shadow Play – The making of Anton Corbijn. The following year Corbijn returned as a director with the character-based thriller The American, starring George Clooney.
In May 2011 Corbijn presented Mandela Landscape, an artwork consisting of Corbijn's portrait of Nelson Mandela stitched by Dutch textile artist Berend Strik. Both the original work and 80 signed art prints will be sold to fund the international edition of ZAM Magazine, an independent platform of African talent.[citation needed]
On 26 October 2011 Corbijn directed a webcast by Coldplay from the Plaza de Toros de Las Ventas in Madrid, Spain.[23]
On 19 December 2011, he was announced as being on the jury for the 62nd Berlin International Film Festival, scheduled to be held in February 2012.[24] At this occasion, the Berlinale Special screenings at the Haus der Berliner Festspiele will screen Anton Corbijn – Inside Out, an 80 min-documentary directed by Klaartje Quirijns.
His film A Most Wanted Man was released in 2014. The John Le Carré novel of the same name, which is loosely based on the true War on Terror story of Murat Kurnaz, was set in part in Hamburg, as parts of the movie were.[25]
In February 2014, he start filming his next project Life about James Dean and photographer Dennis Stock.[26]
From Wikipedia